Maronite Cross
The triple-bar cross has for a long time been identified with the Maronites and its form appears in a national flag.
The Maronite Cross
The Maronite Cross is also referred to as an Antiochene Cross. Antioch, an ancient city in present day Turkey, was converted to Christianity through the ministry of the apostle Paul and fellow missionary Barnabas.
Saint Peter was the first bishop and the Church extended its territory, becoming one of the original patriarchates. These were the first people to be called 'Christians' and the Church of Antioch can justifiably claim to be Pretty Old.
A few hundred years passed and by 518, dogmatic squabbling split the Church into two groups: the Chalcedonians and the monophysitic anti-Chalcedonians. A century later, the Chalcedonians divided into the Syriacs, the Maronites and the Melkites each of which had its own Patriarch. By the 7th century, the Assyrians and the Armenians also had their own Patriarch, and by the 12th century the Latin Patriarch was established.
But we're getting ahead of ourselves.
St. Maron
St. Maron
In the 4th century, a monk called Maron left Antioch for the Orontes River to lead an ascetic way of life. When he died (410 AD) his followers built a monastery in his honour and this became the foundation of the Maronite Church.
Staunchly Chalcedonian, the Maronite monks were persecuted by the Monophysites and after 350 of their monks were slaughtered, the survivors exiled themselves to the mountains of Lebanon.
This Lebanese connection continues today and we see that since the Middle Ages, the Maronite Church has been centred in Lebanon, even though the country's population is now predominantly Muslim.
Cross
As with many Churches, the Maronites use a variety of cross styles, including the moline cross, which can be seen on the mitre in the above logo, and also in the logo of the Congregation of the Lebanese Maronites Missionaries. The most commonly seen cross, however, is the distinctive three-bar design.
Looking a bit like a telegraph pole, the three bars symbolise the titulus at the top for the sign-board, patibulum in the middle for the victims arms, and suppedaneum beneath for the feet.
The three horizontal bars symbolise the Holy Trinity and also correspond to the unity of bishops, patriarch and pope.
Syriac poets refer to the cross as the Tree of Life and the leaves or buds at the ends of the arms symbolise the life that flows from the passion of Christ.
Flag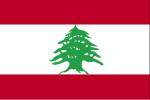 Lebanese flag
Coincidentally, the cross with three bars has some similarity with the cedar tree seen in the Lebanese national flag.
In the 18th century the Maronites used a white flag with a cedar tree in the centre. Later, the red stripes were added giving us the flag we see today.
Related Crosses
Some Maronite orders now use the Rabbula Cross which pre-dates the Maronite Cross.
See other triple-barred crosses
"And the disciples were called Christians first in Antioch." Acts 11:26
"The righteous flourish like the palm tree, and grow like a cedar in Lebanon" - Ps. 92:12