Lebanese Forces Cross
A cross symbolizing martyrdom, glory, suffering, strength and determination
Lebanese Forces Cross
The Lebanese Forces Cross (Salib al-Muqawama, or Resistance Cross) was launched in 1984 but has not been widely used since 1990.
Anglo-French forces captured Syria from the Ottoman Empire in 1918 and Lebanon was separated out of the territory in 1920. Lebanon did not gain its independence until 1943, and after that, local internal struggles for power continued, culminating in a civil war which lasted from 1975 to 1990.
The conflict was largely inter-religious (yet more complex than simply Christian vs. Muslim), and exacerbated by the involvement of Syria, Israel and the Palestine Liberation Organization. Militias quickly formed; first for self-protection and later to support a broader agenda. In 1977 three of these militia; the Tigers, Phalange and Guardians of the Cedars, came together under a coalition called the Lebanese Forces (LF). The LF became the military arm of the Lebanese Front and the dominant Christian force in Lebanon.
The design of the Lebanese Forces Cross was based on a voided Latin Cross. The Lebanese Forces website says the design was...
Inspired from the Eastern crosses and symbolizes three things:
The Cross of our savior Jesus Christ - In red, the sign of martyrdom and glory.
The bearing cross of the Lebanese Christians - The sign of their suffering throughout history.
The Diagonal cut at the base of the cross - It symbolizes the strength of the Lebanese Christians' will and their determination to keep the cross planted in this region of the world.
Source: www.lebanese-forces.org
The long civil war devastated the country. Since then, however, Lebanon has made a significant political, social and economic recovery. Most militias (with the exception of Hezbollah) reformed into political groups and the LF holds seats in parliament.
Lebanese Forces Logo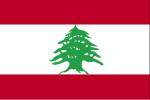 Lebanese Flag
The Lebanese Forces Cross is now viewed as a relic from the more militant days and today largely replaced by the LF logo, which is based on the national flag.