Southern Cross Railway Station's Cross
Since Southern Cross Railway Station was not specifically built for Christian worship, why does 'Cross' feature in the name? Can a cross be found there?
Southern Cross Station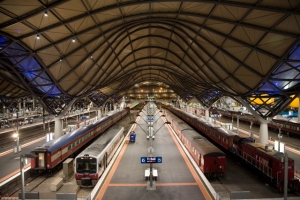 Most station names reflect the names of the towns or areas they are in.
The newly named Southern Cross Station in Melbourne is an exception to this. The station is notable for its bizarre roof, designed to expel diesel fumes from the trains and to irk people who have a different definition of 'style'. The rebuilding of this 150 year-old station in 2005 cost a cool $700 million.
The Southern Cross Station in Melbourne is about 2,400 miles from the little town of Southern Cross in Western Australia, which itself is about 320 light years away from the Southern Cross star constellation.
(This is the constellation represented on the Australian National Flag. As far as we know, there is no railway station at this constellation!)
Southern Cross WA is a 19th century gold mining town and has a population of 708. The town was named after the constellation by the gold prospectors who were guided to the area by the stars. Streets in the town have star names such as Altair Street and Spica Street, constellation names such as Hydra Street and Phoenix, and also astrological names such as Leo Street, Libra Place, Taurus Street, etc. There is a small hotel called 'Railway Tavern' on Sirius Street, quite a long walk from the rail track with its small 'station'; but no cross at any of these locations.
Way over in Queensland, another gold mining area has a tiny Southern Cross Station near Charters Towers on the A6 Flinders Highway; the highway that crosses Queensland from east to west. This station also, has no cross.
There's a fourth station in Australia named Southern Cross (and probably more). This fourth, however, is not a railway station but a broadcasting station located in Darwin.
| | | |
| --- | --- | --- |
| The four stations: | North: | Darwin's television Southern Cross Station (map) |
| | East: | Queensland's Southern Cross Station in the east (map) |
| | South: | Melbourne's Southern Cross Station with the expensive roof (map) |
| | West: | WA's Southern Cross Station with no roof (map) |
Located north, south, east and west, but they don't match the positions of the stars in the Southern Cross constellation. Neither do any of them feature a cross.
¶ Other railway stations with 'Cross' in the name