Dunstable Cross
Queen Eleanor died in Lincoln, central England, in 1290. Her husband, Edward I, moved her body from Lincoln to London for a state funeral. The journey took thirteen days and the cortege stopped at a different religious house each night to rest. One of these was an Augustinian Priory at Dunstable in Bedfordshire.
Dunstable Cross
The
Eleanor Cross at Geddington
, understood to be similar to the cross that stood in Dunstable 1292-1643.
The body of Queen Eleanor was laid before the high altar of St. Peter's Church for the night. The following morning, after a requiem, the procession continued on to St Albans. Shortly afterwards, a monument was erected in Dunstable, said to be similar to the Eleanor Cross that can still be seen at Geddington.
Two centuries later, the Priory Church of St. Peter was where King Henry VIII formalised his divorce from Catherine of Aragon leading to the separation of the Church of England from the Roman Catholic Church.
On 23 May 1533 Archbishop Cranmer came to the Lady Chapel of Dunstable Priory with the bishops of Winchester, London, Bath and Lincoln. The assembly was to rule on the validity of Henry's marriage to Queen Catherine of Aragon, both of whom were in absentia. The court declared the marriage null and notice of the divorce was posted on the church door. This paved the way for official recognition of Henry's sneaky earlier marriage to Anne Boleyn.
How poignant that such a significant divorce should take place in the shadow of Queen Eleanor's Cross; a symbol which epitomised sincere marital love.
Eleanor Cross shopping precinct, Dunstable, erected in 1985
In 1643, the Eleanor Cross fell victim to Parliamentarian soldiers of Lord Fairfax in the Civil War, and no part of that original cross remains. But in 1985, a modern statuette of the queen was erected in the Eleanor Cross shopping precinct in High Street North, a short walk from St. Peter's Church.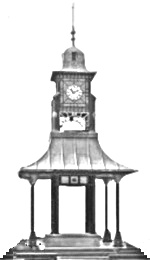 Market Cross
, Dunstable, erected in 2000
Drawing by Peter Schneider
There's another 'cross' in Dunstable; the Market Cross erected in 2000 to commemorate the new millennium.
As with many other monuments and pieces of street furniture, those of Dunstable incorporate no cross shape and no meaning, yet still retain the term 'cross'.
A cross can take many shapes and forms. The two pieces of timber crossing at right-angles to form an instrument of crucifixion became a symbol Hope for Salvation.