Thugsta Cross
What's a thugsta?
Thugsta Cross

When we first saw this cross, we thought it was simply a voided pattée.
The cross was spotted in the obituary column of a Swedish newspaper, which led us to speculate the design may have been the emblem of a Nordic church or society. So we put it on our mystery cross page to appeal for more information. It provoked several responses, one of which was quite a surprise, sending us over 10,000 km around the world to Brazil.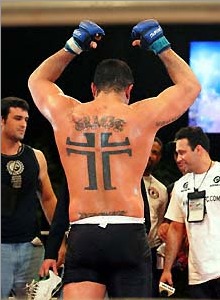 Ryan Gracie, after beating Ikuhisa Minowaman in May 2004 (split decision result)
The design was tattooed on the back of Ryan Gracie, a Brazilian mixed martial arts fighter from Rio de Janeiro who tragically died in 2007. (We are indebted to Ryan's cousin and a close friend for providing the following information.)
Ryan had a black belt in Brazilian Jiu-Jitsu and was a member of the Gracie family, internationally famous in the world of Jiu-Jitsu. Catholicism is the main religion in Brazil (about 75%) but Ryan is not known to have been devoutly religious.
The tattoo was done by Mojo in Sao Paulo and is in fact is a stylised letter 'T', not a cross. The 'T' was to be the logo patched on Jiu-Jitsu uniforms with a brand label called 'Thugsta'. Ryan had planned to produce a line of fighters' wear with this Thugsta Inc. brand.
The name was derived from the ruthless tough guy term 'thug', together with the mid-1980s term 'Gangsta', a sub-genre of hip hop reflecting the violent wannabe gangster lifestyles of some inner-city youths in the United States. Many might dismiss such behaviour as being absurd and childish; just as many dismiss tennis, golf and bowling as absurd and childish. Nevertheless, there's no doubt that the name 'Thugsta' has a more aggressive appeal than 'Adidas' or 'Mizuno'.
There's a patriotic similarity between Ryan's Thugsta Cross and the Order of Christ Cross seen on this upright orientation of the state flag of his home city São Paulo.
Ryan first had the design tattooed with the names 'GRACIE' above the 'T' and 'DEVIL' way down below. He later had 'GOD' tattooed above that.
Ryan's friend sent us the photo on the left, where he's wearing a tee shirt with the 'arms' of the 'T' modified to show slightly bulging biceps.
All journalists know that 'Bad News Sells Better Than Good News', but Ryan's friend confirms that "...he was a great guy. There are a lot of stories about him but I never saw the bad side. Here's a picture of me and him, and another with my son who I named after him."
It's true that many negative things have appeared in print about Ryan's life; a price many celebrities pay.
Click on a thumbnail on the right to see more of Ryan's fans sporting Thugsta brand.
So despite the tattooing of 'God' and 'Devil', the Thugsta Cross is not a religious symbol. There is no 'Saint Thugsta' and the design is not even supposed to be a cross.
It is a symbol representing finely tuned fighters who have excelled in their sport. It is a symbol proudly worn in memory of their friend, Ryan Gracie, whose fighting days are over.
May he rest in peace.
Other Cross Tattoos
When only the edges of the arms are traced, it is termed 'voided'. A Voided Cross is usually shown with a border completely surrounding the cross, but in this case, the arms ends are open. 'Pattée' is the term used to describe a cross with arms which are narrow in the centre and broad at the ends (see Pattée Cross).
Jiu-Jitsu is a distant relative of Jujutsu, an ancient Japanese martial art intertwined not so much with Buddhism or Shintoism, but more of a philosophy. Rather than attacking and opponent, the Jujutsu practitioner yields to an opponent's force and manipulates it to control the attacker's balance. The successful Jujutsu warrior has a clear mind (zanshin), enabling him to be constantly alert (mushin) for opportunities, which is particularly difficult when a carotid artery hold disrupts the blood supply to the brain!