Christmas in Japan
Christmas is enjoyed by people all over the world, whether they are Christian or not, and some of the celebrations seem to actually mock Christianity.
But Jesus taught us not to be judgmental. There's no need for Christians to get upset about some people forgetting what Christmas is all about, since it is, after all, based on many aspects that are not even Christian.
Christmas festivities in Japan
No, like yourself, we cannot see the connection between the birth of Jesus and these seven lucky gods of Japan
But here they are, sitting outside a noodle restaurant on Christmas Day, smiling beneath their Santa hats – although if you click the photo to enlarge it, you'll see the three at the back are wearing Scottish Tam o' Shanters.
Apparently somewhere along the order-delivery process there was a mis-translation from "Santa" to "Shanter". An easy mistake, and trivial compared to the mistakes Westerners make with foreign languages and foreign customs.
If you go to Japan at Christmas time you'll see that most people know very little about Christmas. Yet even though the predominant religion is Buddhism, Christmas in Japan is celebrated with as much, if not more, glitz than you see in Western shopping malls. They have Christmas trees, twinkling lights covering people's homes, and piped carol music in just about every pedestrian walkway.
They do, however, lack traditional door-to-door carol singing, Christmas cards and school Nativity plays. This is because, according to a Gallup poll in 2006, only around six percent. of Japanese profess to be Christian and consequently most generally have little interest in learning about the meaning of Christmas.
It comes as no surprise therefore, that when the manager of a famous department store in Tokyo's fashionable Ginza district instructed his staff to decorate the window in a 'Christian' Christmas style, the window dressers didn't have a clue what to do.
Because there is no "L" (Noel?) in the Japanese language, "Santa Claus" is often pronounced "Santa Craus", not dissimilar to "Santa Cross". Hence a Santa-suited mannequin was attached to a cross and displayed in the shop window.
Merry Giftmas
We have no proof that the above Santa crucifixion was actually displayed; it's probably just one of those many urban legends.
Many believe that Jesus' crucifixion is also an urban legend, but the two stories do have some things in common. First, Santa's crucifixion was done in full view of the public. So was Jesus'. The Crucifixion of Jesus has symbolism – that our sins have been washed away by His sacrifice. Santa's crucifixion also has symbolism – that Jesus has been washed away by Santa.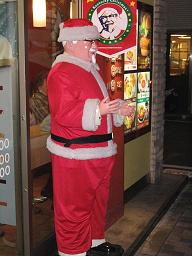 No, chicken is not the traditional Christmas Dinner in Japan but that doesn't stop Kentucky Fried Chicken from cashing in on the theme.
At KFC the Colonel is shown in his Santa costume, which helps educate school children that Santa loves children, Santa loves KFC, and Santa is American.
Here in a Tokyo Disney store, we find Santa as a skeletal snowman, giving the shop girl the 'cold shoulder'. (A scary mannequin for those with claustrophobia.) Yes, we've seen him at Tokyo Disneyland, so Santa must be American.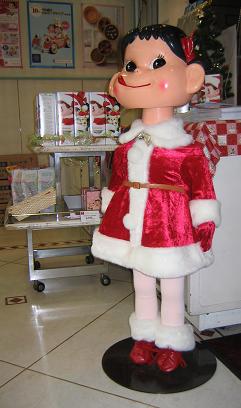 The famous and perky Peko-chan, suitably dressed for the shoppers' rush to buy festive chocolates. Even though her company was disgraced somewhat by dubious business practices revealed by over-zealous press in January 2007, Peko-chan still steals our hearts.
And finally, a candidate for the ultimate profanity in Japan is the 'love hotel' named Chapel Christmas.
Rooms can be rented in tacky places like these by the hour for a quick, often candlestine [sic], passionate encounter, hinted at by the phallic-looking oversized candle in the car park. No malice intended by the operators of course; they don't care whether the customer's pleasure is carnal or spiritual. They are just capitalising on Christmas as other businesses do.
Christmas is enjoyed by people all over the world, whether they are Christian or not, and some of the celebrations seem to insult the Christian religion.
But before pointing out another culture's errors, just remember that in the US, gun sales peak in the Christmas present buying season.
Return to the main Christmas page
Other accounts suggest as low as one percent.
Cross + Santa?
Q: What do you get if you cross Father Christmas with Sherlock Holmes?
A: Santa Clues
Skeletal snowman from the 1993 Disney movie "The Nightmare Before Christmas" – A ghoulish tale with wicked humour and stunning animation where Jack Skellington, king of Halloweentown, discovers Christmas Town, but doesn't quite understand the concept.
Q: Why couldn't the skeleton go to the Christmas Party?
A: Because he had no body to go with!